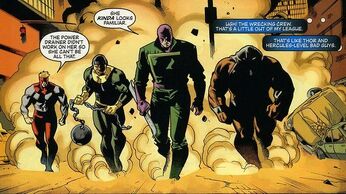 Welcome to the Wrecking Crew. We were orignally just four convicts who formed a criminal gang with the orignal members being Bulldozer (Henry Camp), Piledriver (Brian Calusky
)
, Thunderball (Dr. Eliot Franklin), Wrecker (Dirk Garthwaite.) After the death of our founders we have expanded into a bigger, badder, and more diabolical team, so why don't you join...if you dare.
Messages from the Leader and Lt.
Edit
Lieutenants
Edit
Ad blocker interference detected!
Wikia is a free-to-use site that makes money from advertising. We have a modified experience for viewers using ad blockers

Wikia is not accessible if you've made further modifications. Remove the custom ad blocker rule(s) and the page will load as expected.